2017 Events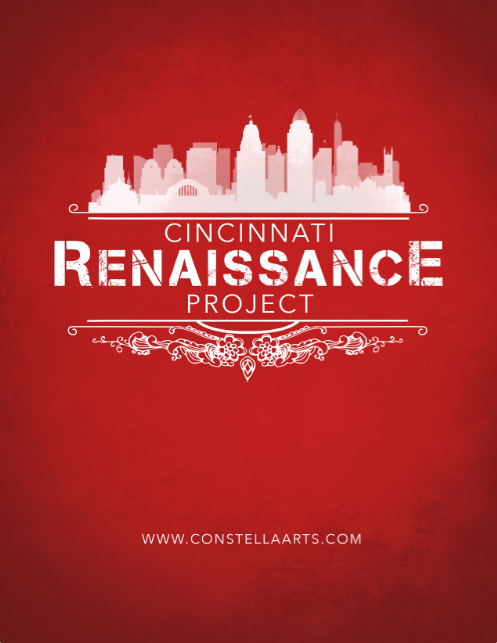 Constella Presents: The Cincinnati Renaissance Project
Constella Arts presents The Cincinnati Renaissance Project, a documentary production.  Featuring interviews with dozens of influencers in a variety of fields, it is a portrait of the cultural Renaissance that is occurring in our…
Everybody Loves Opera: Jessica Rivera and Scott Wyatt: BUY TICKETS
Constella presents the stunning voices of audience sweethearts, Jessica Rivera and Scott Wyatt, accompanied by Lydia Brown on the piano. In this diverse program of opera arias and duets, audience will be treated to a wide range of favorites, including the music from The Magic Flute, and La Bohème. Art exhibition to accompany the show.
March 18 - 8:00pm
Doors open at 7:30 PM
Covenant First Presbyterian Church
717 Elm St, Cincinnati, OH 45202
Jessica Rivera, soprano
Scott Wyatt, tenor
Lydia Brown, piano
Ticket Price - $25 Adult
Student - $10
Piano 2.0: Melding of Man & Machine Dan Tepfer: BUY TICKETS
In an exceptional melding of man and machine, Dan Tepfer uses the Yamaha Disklavier CFX piano to bring together his world-class pianism with his background in physics and programming. As he improvises, the piano responds in real time with notes of its own, the keys of the keyboard depressing themselves as if by magic. For different pieces, the pianist has programmed a variety of approaches for how the Disklavier responses are constructed, leading to unique sonic signatures for each.
The New Riff Distillery, 4:00 PM
Doors Open at 3:30 PM
24 Distillery Way
Newport, KY 41073
4:00 PM
Adult Ticket Price - $25
Student Ticket Price - $10
Yamaha DCFX, a CFX concert grand piano with the Disklavier™ PRO reproducing system, provided courtesy of Yamaha Corporation of America.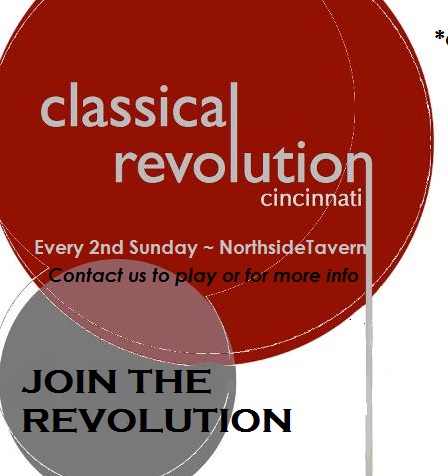 Classical Revolution: Constella Partner Event: LEARN MORE
Live classical music every second Sunday at the Northside Tavern in Cincinnati, Ohio. Featuring members of local music and arts organizations. Classical Revolution is a global movement dedicated to bringing classical music to the people.
This is a FREE Constella Partner Event!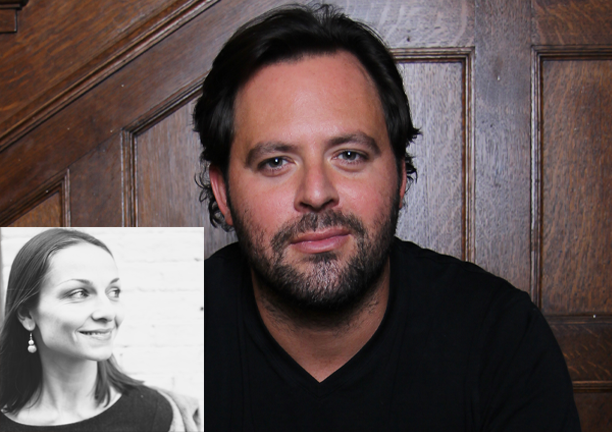 From Russia With Love: BUY TICKETS
Once again, tensions with Russia are on the rise. Constella founder violinist Tatiana Berman, together with filmmaker David Donnelly, create a hybrid film concert experience that explores this rocky relationship in five chapters. Five short artistic vignettes featuring found footage, news clips, and visual effects are interlaced with short musical pieces. It is an intense, diverse musical experience featuring Tatiana Berman, violin, friends from CCM's MoMus ensemble, with other musicians tba.
This personal, poetic performance makes a strong statement about the power of propaganda, the necessity of free thought, and the unique ability of music to transcend the physical realm.
Run time of approximately one hour.
March 23 - 8:00pm
Doors open at 7:30 PM
From Russia With Love
Gallery 708
Tatiana Berman, violin
Constella Festival Ensemble + CCM MoMus
Ticket Price - $25
Student Price - $10
Luminous Dance DCDC, MamLuft&Co. Dance: BUY TICKETS
Constella presents dancers from the DCDC and MamLuft&Co. companies in collaboration with Constella musicians. Experience two new dance world premieres, and an art exhibition to accompany the show. Join us for an after party right down the street at the new Taste of Belgium on the Banks. Discounted drink specials and food will be available just a block away!
March 24 - 8pm
Doors Open at 7:30 PM
Luminous Dance
Harriet Tubman Theater - Freedom Center
50 E Freedom Way
DCDC + MamLuft & Co
Constella Musicians
Ticket Price - $25
Student Price - $10
Constella For Kids: Free Event!
In a magical world an adventure awaits! A young boy named Ludwig leaves his small town to discover the secret mystery of the magic box. Using the power of listening, Beethoven uncovers the truth about music in this story for all ages. Join us on a journey as we meet other great composers and solve the mystery together. Featuring Jonathan Carlisle, piano and Gabriela Madenia, narrator
March 25 - 1pm
Constella for Kids
Contemporary Arts Center, The UnMuseum
44 E 6th St, Cincinnati, OH 45202
Price - free
Constella Finale! Duo Scofano / Minetti with Special Guests: BUY TICKETS
Duo Scofano/Minetti will be performing with special guests Tatiana Berman and Jeff Greene. This performance will feature exceptional music the 'Nuevo Chamamé' from Richard Scofano. A Milonga will follow the performance. Food from Cincinnati's best Mexican restaurant, Mazunte, wine from Robert Mondavi, and select beers from Rhinegeist will all be included in the ticket price. Join us for our Constella Finale and come dance!
March 25 - 8pm
Doors open at 7:30 PM
Saturday Night Latin Fever
Gallery 708
708 Walnut St, Cincinnati OH 45202
Tatiana Berman, violin
Richard Scofano, bandoneon
Alfredo Minetti, piano
Jeff Greene, bass
Ticket Price - $35